Last Updated: 11/5/2022
Welcome!
We are glad you chose to visit our site. Hopefully you will find something that will enhance your personal worship experience or be useful for your worship ministry. Feel free to use any of our original material for whatever purpose you need. Also, we want to invite you to visit Steve Pruitt's blog
www.lovnJesus.com. On the blog you will find Bible lessons that cover the entire Bible verse by verse and other material that may help you run the race of faith.
Think About It: "A good Christian is not a grave to bury God's mercies, but a temple to sing his praises." Thomas Watson
Be sure to check out the free e-books that includes Steve Pruitt's "The Ingredients of Worship."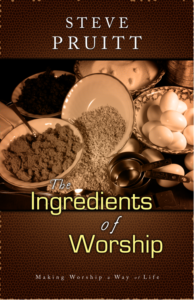 In his first book, Steve Pruitt shares ideas that he believes are necessary for worship to become a way of life and not just an emotional experience when gathered with other believers. He mixes personal experience along with a strong biblical foundation to convey Jesus' message that true worshipers worship the Father is spirit and truth. Located in the back of the book you will find a study guide that might be helpful for personal or small group study.
Steve writes, "Worship is more than a time slot to be filled on Sunday morning. Worship begins before the music starts, when no one is looking. Worship is a way of life; daily giving oneself to God. True outward expressions of worship flow from a heart that is intimately involved with the Father."
All of the e-books are free for you to download. You may make as many copies of the books as you like. Please give proper credit and do not reproduce for sale.
Featured Article:
Praising God for His Mercy -By Steve Pruitt
Doesn't this sound like a Saturday afternoon collegiate football game or maybe a Sunday afternoon professional game? Those people do foolish things like not wearing shirts in freezing weather and painting their faces and bodies with the team colors. In Green Bay the fans wear blocks of cheese on their heads; the fans in Cleveland wear dog masks while the fans in Minnesota wear Viking helmets. These fans leave no doubt who they are rooting for or where their affections lie. Let's face it; they put the church to shame when it comes to praise. What's even more, they pay good money to praise their team.
Featured Devotional:
God's Mercy -By Steve Pruitt
If you think about it, God owes us nothing; yet he freely gives apart from human effort. Paul wrote to the Roman Christians, For he says to Moses, "I will have mercy on whom I have mercy, and I will have compassion on whom I have compassion." So then it depends not on human will or exertion, but on God, who has mercy. Romans 9:15-16 (ESV) If God never answers another prayer, if he chooses not to bless us or use us above where we are right now, the mercy he has already shown us is enough to deserve our highest praise.
© Copyright 2016 JustWorship.com