Welcome!
We are glad you chose to visit our site. Hopefully you will find something that will enhance your personal worship experience or be useful for your worship ministry. Feel free to use any of our original material for whatever purpose you need.
Also, we want to invite you to visit Steve Pruitt's blog www.lovnJesus.com. On the site you will find Bible Lessons that cover the entire Bible verse by verse and other material that is not specifically worship related.
Think About It: "Worship is no longer worship when it reflects the culture around us more than the Christ within us." A.W. Tozer
Be sure to check out the free e-books that includes Steve Pruitt's "The Ingredients of Worship."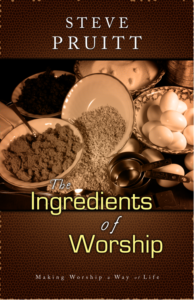 In his first book, Steve Pruitt shares ideas that he believes are necessary for worship to become a way of life and not just an emotional experience when gathered with other believers. He mixes personal experience along with a strong biblical foundation to convey Jesus' message that true worshipers worship the Father is spirit and truth. Located in the back of the book you will find a study guide that might be helpful for personal or small group study.
Steve writes, "Worship is more than a time slot to be filled on Sunday morning. Worship begins before the music starts, when no one is looking. Worship is a way of life; daily giving oneself to God. True outward expressions of worship flow from a heart that is intimately involved with the Father."
All of the e-books are free for you to download. You may make as many copies of the books as you like. Please give proper credit and do not reproduce for sale.
Featured Articles:
The Head and Not the Tail -By Steve Pruitt
I vividly remember the first worship band practice I led as a full-time worship leader. Here I am the worship leader of a church that was once two churches. Many of the members of the praise team I didn't even know. The truth is I didn't want to be the worship leader. In fact, I was so wounded from my previous ministry position that I really just wanted to sit for a while.
The Heart of a Dove -By Karen Holland
The bride has the eyes of a dove. When a dove fixes its gaze upon its mate, it is not distracted by any activities around it. It possesses a singleness of eye for its mate alone. The bride has eyes for Christ alone. This gives the bride a spiritual awareness and commitment which lifts her above the pulls of the earth.